ye, semalam jugak aku buat...
sampai rumah kul 6 lebih terus singsing lengan baju hahah..
Bahan2 nye: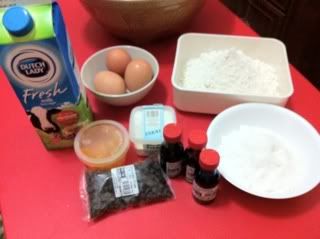 3 biji telur (sejuk drpd peti ais)
275g tepung
220g castor sugar
3tsp baking powder
1tsp ovalette
150ml fresh milk
pewarna (ikut suka masing2)
filling (eg choc chip, jem, peanut butter etc -- ku guna choc chip je)
ohh memang la ramai pembantu yang eksaited nak tolong, seb baik chef kecik tu tido!
memula mix telur + ovalette + gula..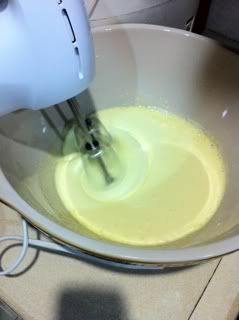 sampai putih ye... (menurut
blog inilah
, kalau tak tgk sure aku pukul ala kadar je :P).. sampai floofy..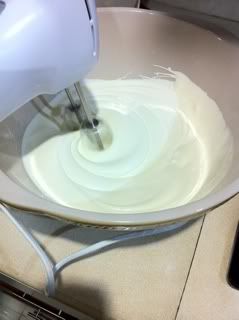 pastu masuk tepung (yang dah diayak bersama baking powder) berselang seli dengan susu..
pukul sampai sebati, tapi katanya, jangan lama sangat..
kemudian, boh pewarna and masukkan dalam piping bag..
ohh aku sangat ambitious
and tamak
semua kaler nak buat.. udah nye, tatau macamane mau handle piping bag yang banyak2 tu.. tenggek2 kan gitu, meleleh kuar kat muncung aiyoo... lain kali buat 2-3 kaler je lah!
boh dalam papercup yang dibubuh dalam bekas keras, kalau tak nnt papercup tu 'kembang'.. aku pakai pengukus ikea yang comel tu je... rase kalau cukup bekas mungkin muat dalam 10 bekas... tp semalam beli bekas tu 7 biji je
iskk 70sen sebijik tau..
nnt nak beli lagi lah, atau beli papercup besar so, cepat sket hahha... mengelat!!
pastu boh la adunan tu mengikut kreativiti masing2... memula buat, ladybird ku tak jadik T_T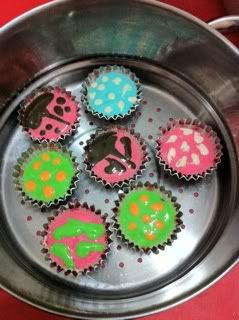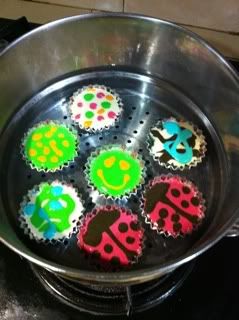 lepas 2-3x try, baru macam comel sikit... (comel takkk???)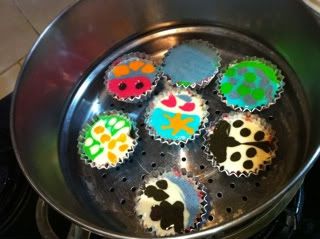 ni pulak, hasil SIL and Fatini... sume kaler dia bedal masuk dalam papercup tu...
ni hasil nya...
PERINGATAN: lepas ni, gambar2 yang melambak.. jangan mare... they are sooooo colourful... i cant resist looking and admiring them...
put aside the quantity of colouring auww...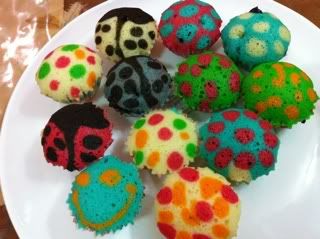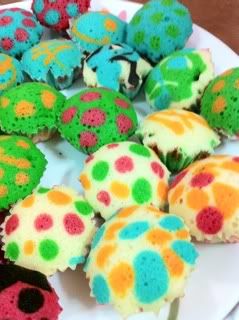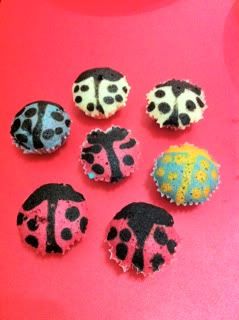 here are my ladybirds.... i heart them sooo much!!!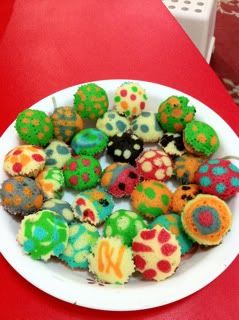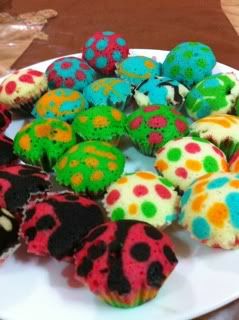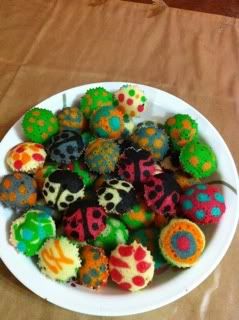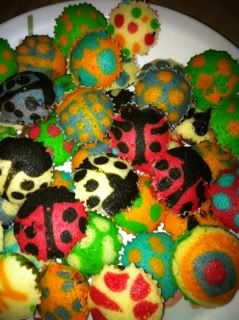 Haziq suka sangat... Faris pon, mulut penuh lagi dah "nak agi.."... bila hulur satu pinggan, rambang mata nak pilih pulak... Fatini, memula je eksaited, pas sebijik dua, dia tak heran... hmm mmg ngikut daddy.. bukan suka sgt bende2 gini... mummy gak yang tukang makan huhu... pipi pon jadik cam apom ni huhuh...
soooo... kalau aku boleh buat... korang pon boleh buat.... dia mudah, (leceh sikit je, tp lama2 tu jadik senang).. enak, very attractive colours.. or kalau tanak kaler teghang sangat, just boh sikiiiiit je the colouring, leh dapat pastel colours... and bleh ikut kreativiti masing2 nak boh corak apa... tp corak ladybird tu mmg pojaan hatiku!!!... rase cam nak simpan frame je hahahha...
okay... selamat mencuba!!