hari ni hari BERSIH? ntah la.. denga roadblock sana sini, so malas nak keluar rumah. So okay jugak memasak2 dan berehat2 di rumah.
Dari 2 hari lepas DH mintak masak pizza.. ok lah sbb lama jugak tak masak.. dulu masak pizza Faris lom ada lagi hahah.. dua tahun lebih yang lampau tu..
pagi ni, DH nak gi opistal, dia paksa aku ikut sbb nak beli bahan2 nak masak pizza.. aku pon pasrah la, kalau ikut nak je melingkar atas katil lagi huhuh..
tp ada gak hikmah sbb resepi pizza tu mmg tertinggal kat opistal.
dah alang2 nak gi kedai bahan2 kek, decide la nak masak Red Velvet cake.. now sana sini sibuk red velvet (RV).. aku plak dah cuba 2x, last sekali dari
Ninazcakes
.. sedappp...
so teringat resepi yang
Pah
share from
JoyofBaking
.
Ni resepi dari JoyofBaking:
Red Velvet Cake:
2 1/2 cups (250 grams) sifted cake flour
1/2 teaspoon salt
2 tablespoons (15 grams) regular or Dutch-processed cocoa powder
1/2 cup (113 grams) unsalted butter, at room temperature
1 1/2 cups (300 grams) granulated white sugar
2 large eggs
1 teaspoon pure vanilla extract
1 cup (240 ml) buttermilk --
ni aku buat guna 240mL milk + 1tbsp distilled vinegar (let it stand for 5-10mins)
2 tablespoons liquid red food coloring
1 teaspoon white distilled vinegar
1 teaspoon baking soda
Cream Cheese Frosting:
227 grams cream cheese, room temperature
227 grams tub of Mascarpone cheese, room temperature
1 teaspoon pure vanilla extract
1 cup (115 grams) confectioners' (icing or powdered) sugar, sifted
1 1/2 (360 ml) cups cold heavy whipping cream (double cream) (35-40% butterfat)
----
resepi Cheese Frosting tu guna mascarpone cheese.. humang aiii mahal gila mascarpone cheese tu, so Pah sms resepi Nina masa aku kat Tesco tadi.. ni resepi Nina, senang sikit:
250g cream cheese
35g butter
110g icing sugar
1tsp vanilla essence
Methods:
Red Velvet Cake:
Preheat oven to 350 degrees F (175 degrees C) and place rack in center of oven. Butter two - 9 inch (23 cm) round cake pans and line the bottoms of the pans with parchment paper. Set aside. --
aku ada satu je acuan, so just buat satu and kerat dua..
In a mixing bowl sift together the flour, salt, and cocoa powder. Set aside.
In bowl of your electric mixer, or with a hand mixer, beat the butter until soft (about 1-2 minutes).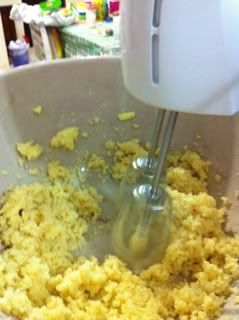 Add the sugar and beat until light and fluffy (about 2-3 minutes). Add the eggs, one at a time, beating well after each addition. Scrape down the sides of the bowl. Add the vanilla extract and beat until combined.
In a measuring cup whisk the buttermilk with the red food coloring. With the mixer on low speed, alternately add the flour mixture and buttermilk to the butter mixture, in three additions, beginning and ending with the flour.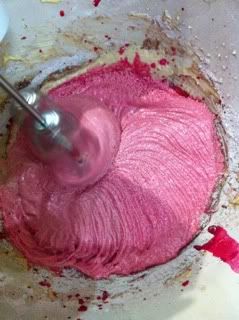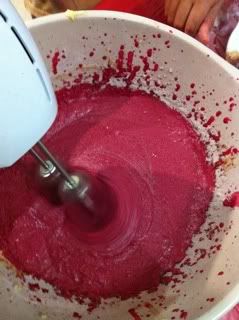 memula nampak pink, bila dah add semua buttermilk+colouring, baru lawa sket colour merah tu hihih..
In a small cup combine the vinegar and baking soda. Allow the mixture to fizz and then quickly fold into the cake batter.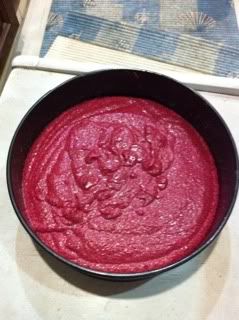 (Working quickly, divide the batter evenly between the two prepared pans and smooth the tops with an offset spatula or the back of a spoon.)
Bake in the preheated oven for approximately 25 - 30 minutes, or until a toothpick inserted in the center of the cakes comes out clean. Cool the cakes in their pans on a wire rack for 10 minutes. Place a wire rack on top of the cake pan and invert, lifting off the pan.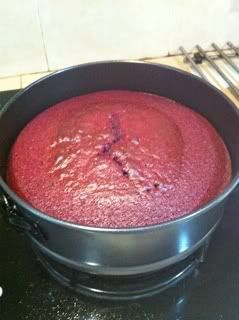 dah masakkk... tunggu sejuk
(Once the cakes have completely cooled, wrap in plastic and place the cake layers in the refrigerator for at least an hour (or overnight). (This is done to make filling and frosting the cakes easier.))
>>> of cos la tak buat step yang ni... hahah
[Read more: http://www.joyofbaking.com/RedVelvetCake.html#ixzz1Rao14wJ3]
kek yang dikerat dua.. tapi sebab tengah still panas, agak bergigi-gigi la potongan rentas kek tuh... belasah je lah hahha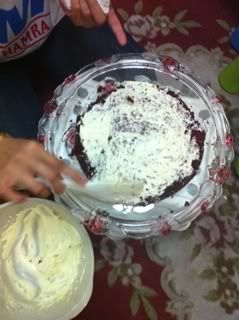 sapu cheese tp sebab potongan tak lawa.. bercampur2 dgn 'serbuk2' kek hasil potongan... boleh la untuk amatur kannn.. (sure Nina gelakkan kek aku!!)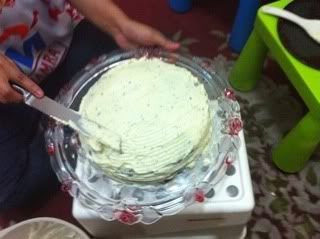 time untuk mekap... woohoo...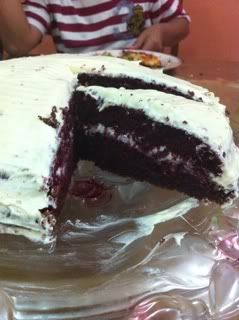 tadaaaa... ni lah hasilnye.. sib baik boleh mekap2 luar tu... tapi patutnye kat tgh tu boh banyak sikit frostings...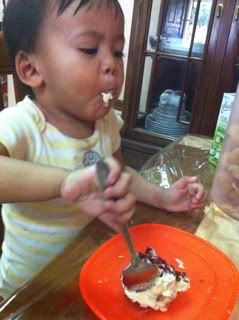 nyumm nyumm...
the verdict???
aku rase sedap je..
hahah dah sendiri buat harus la puji sendiri..
gula aku kurangkan dari 300g ke 250g, rase ok je kalau suka kurang manis. Tambah plak frostings tu dah manis..
cuma aku rasa macam kurang moist... apa sebab ekk?? ada apa yang kurang? Atau terlebih masak?? sbb lepas 30min, tgh mcm still melekat bila cucuk lidi.. so, aku extend lagi 10minit, sbb tu ke ekk??
lagi satu sape leh tolong jawab, utk masak kek, oven tu pakai setting mana ye? panas atas bawah dgn fan or without fan?? (aiyoo malu nye, ada oven tapi tatau pakai hahahha)
all in all..
clap clap clap
!! percubaan pertama RV cake, not bad huhhh... janji kek tak bantat... woohoo.. :happy dance:
so, sape nak cuba silakan...
sini Pah ada bagik
modified recipe
, bleh la cuba mana2 resipi yang nak...
SELAMAT MEMASAK...