ye demam apam polkadot masih belum kebah hahah..
so last friday aku buat lagi, this time nak bawak gi MBW gathering and rumah mak hari sabtu tu..
tapi problem masa tu telur habis, petang nak balik baru ingat. So beli on the way balik keje, tp bigger problem wass resipi nak guna telur sejuk... so sampai je rumah, aku masukkan telur dalam freezer.. hahahah... mmg tatau la boleh jadik ke tak, janji telur tu sejuk (boleh ke???)
and this time, dah macam tere sket buat, takyah tengok resipi sangat (dah hafal hihi..
poyo sungguh..
).. tp this time just buat 4 kaler je -- merah/pink, pastel blue, coklat (memula nak campur2 jadik kaler hitam/coklat pekat, tp tak dapat T_T.. sedey!) and putih (no colouring).
this time aku dah tambah lagi bekas tu, tp muat 9 je dalam pengukus. Bekas besar pon aku beli gak, tapi tak best pulak, penat nak kasi penuh cup tu uhh... and aku ada gak beli foil cup tp tertinggal dlm kereta pulak, DH bawak kereta gi main badminton iskk..
bila dah masak, jadik kaler candied/pastel apam je.. kurang striking! aku tak puas hati, so plan nak buat another batch, this time kaler hijau & kuning wajib! Bagik striking sket! Even ladybirds pon tak jadik sbb kaler coklat tu.. T_T
kurang striking... pastel blue jadik ala-ala hijau...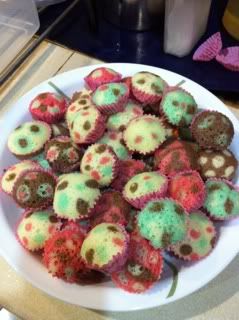 this time, aku perasan dia dah mula berkawah2...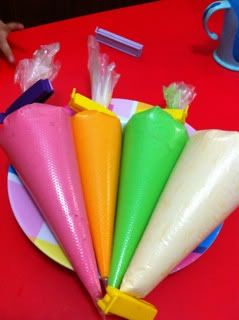 2nd batch aku buat kaler hijau & kuning & merah -- kaler traffic lights gittew!!
and this time no ladybirds... sbb tak gamak nak campur2 byk sgt colouring nak dapat 'hitam' huhuhu..
second batch lagi teruk berkawah!!
mula2 ok...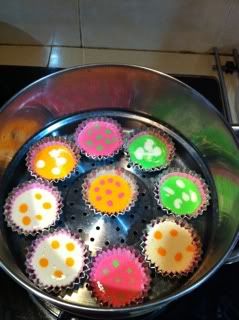 biar lama sikit, jadik gini...
aku dah hentak sebelum kukus --- tp bila hentak, cup tu beralih2, so takleh nak hentak bersungguh sangat.
aku mmg balut lid pengukus dgn kain so takde air meleleh.
aku dah goncang2 piping bag before picit masuk cups.. memula takde kawah/bubbles tp lama2 tu berkawah jugak..
rase nak nangesh!!!
bila dah masak, tak nampak sgt dot dot sbb banyak kawah...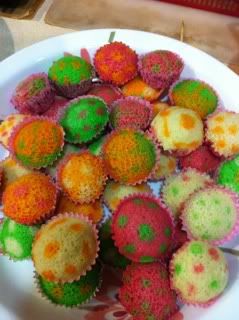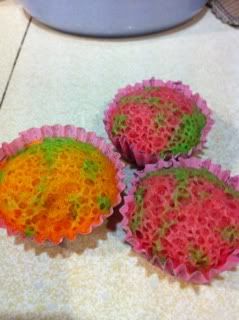 -------------
pape pon, kat gathering, dapat la bagik member2 makan... malu gak sbb memula tunjuk gamba lawa, bila bawak pulak yang tak lawa... rasa?? ntah la... tanye la orang yang dah merasa hihiih..
had a great picnic aka MBW July Gathering kat Taman Rimba Kiara... the kids sampai2 terus nak main air...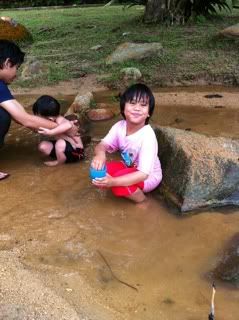 ini budak siap korek 'lubang' and berendam... kemaruk sangat nak mandi sungai/kolam la tu... lama dah tak gi swimming sejak dia tonsillectomy ari tu..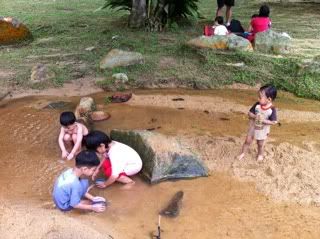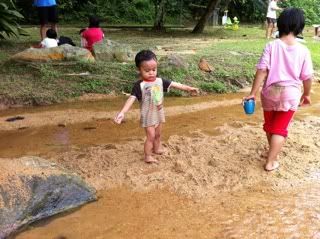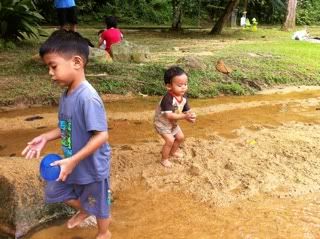 memang dah tak heran mummy & makanan dah...
antara makanan yang dibawa...
malu nak amik gamba apom kawah ai... huhuhu...
anak teruna ai dgn harness bag littlelife... sgt comel.....
anyway, tak byk amik gamba... tak bawak kamera... cameraman pulak shy-shy cat nak approach tempat makanan....
ai la sibuk ngantar makanan... tp ada la pulak yang complained ckp ai tak bagik makan iskk...
-----
sampai lak rumah mak, sume serbu nak apam polkadot! ceihh ropa2nya anak2 sedara aku suda stalked ini blog and buat kecoh satu rumah... sib baik ada bawak, kalau tak kempunan sume hahah...
tghari tu, aku gi amik apam polkadot yang aku order
aiyooo ahkak tu sampai kat meeting spot lepas ai 15 minit menunggu... ai ni benci menunggu, lain kali toloooonggg la jangan biar customer menunggu....
anyway, lawa nye apam dia.. seragam je rupa.. kawah tak sebanyak kawah aku pon... uhh... kena buat lagi nih.. practise makes perfect!!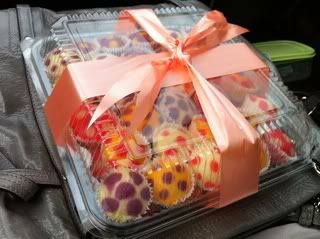 comellllll sangat!!!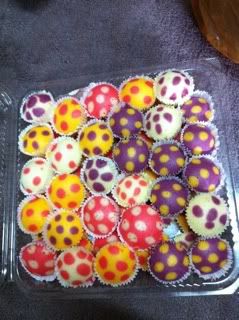 sekali hadap oleh piranha2 aka anak2 sedara aku... LICINNN!!!
kakak aku ckp, maybe sbb telur tu ngelat sejukkan... maybe jugak la, sbb bahan2 lain takde tukar, still balance maak memula.. nnt la try lagi... ohhh apamm...