Haziq exam mid year, pon masa mummy pon tgh sibuk nak exam.. semua exam, mummy, Fatini & Haziq.. sib baik daddy nye exam dah lepas.. fuhh...
actually bukan panggil exam, tp 'assessment week' masa tu. Tp umo pon baru 4 tahun, takde la kisah sgt.. nak ajar apa pon tak tau hahah..
so, last 2 weeks, ada "Parents-Teacher Meeting" untuk amik report card dia..
masa nak pegi tu, bila ajak pegi, dia tak nakikut. bila tanya kenapa, dia jawab "tak nak, nnt teacher marah".. la pulakkk..
sampai kat sekolah dia, cikgu dia dah kenal tambah plak ada Fatini. Semua teachers kat situ mmg dah kenal.
Alhamdulillah results dia excellent. Satu paper je 98/100, 3 lagi papers 100/100. Yang tak dapat 100% tu pon sebab dia salah tanda jawapan.. soalan suruh tanda huruf yang sama dengan huruf di kiri. soalan 1 tu, huruf 'e', instead of tanda 'e' kat kotak jawapan, dia pegi tick 'e' yang dalam kotak soalan.. tp soalan yang selepas tu betul je pulak dia buat? takpe laahhh..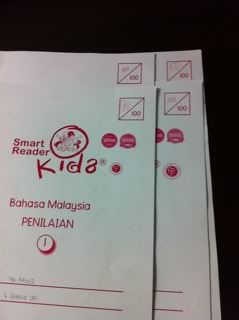 Dalam kelas dia ada 15 orang, dia dapat no. 2... alhamdulillah.. macam kakak jugak masa umo 4 tahun. Masuk tengah2 tahun, tp dapat catched-up and dpt no. 2... alhamdulillah... pandai2 anak mummy kan??
Cikgu semua puji dia baik, pandai, ikut arahan, very independent and mature.
Hmm Haziq ni, mmg anak yang baik, ikut arahan.. tp mummy risau sebab Haziq ni kurang pandai berkawan. Dia suka main sorang2.. walaupon ramai kawan kat keliling. Pastu Haziq ni sensitif.. sikit2 cepat sentap.. tp tak pandai meminta2.. pasrah je apa yang ada. Kalau nak sgt, dia mintak sekali, tp if tanak bagi, dia senyap je tp mmg tau la muka 'frust' yang dia tunjuk... kalau dah dapat, dia punya happy, siap cakap 'thank you' banyak2 kali and cium2 kita..
Haziq pon manja and penyayang.. nak tido masih carik lengan orang nak usap2.. suka kena peluk2...
tak macam Fatini, degil and very persistent kalau nak something. Kadang2 geram bila dia tak nak faham bila cakap tak boleh. Kalau dia cakap nak sekarang, dia memang expect dapat sekarang.. tapi kalau dapat barang pon pandai cakap 'thank you' and senyum meleret... tapi tak suka kena peluk2... garang tu kalau peluk dia!
Fatini pandai berkawan tapi dia susah nak mula berkawan. Selalu kawan2 yang carik dia.. kawan2 mmg suka dgn dia.. tp kalau dia tak suka dgn kawan dia, mmg dia rela jalan sorang2..
isk risau mummy dgn sosial skill anak2 ni... menurun sape la gamaknya tak pandai berkawan ni hahahha
... tapi satu je perangai Fatini ni, very playful.. maybe sebab dia lambat 'mature' dari kawan2 sebaya dia, sbb dia kan lahir bulan Disember.. dan lasak.. mana2 pergi nak bergurau and berlari sana sini.. tak larat kadang2 tu..
anyway, doa mummy, semoga anak2 mummy menjadi anak2 yang berjaya dunia dan akhirat.. ameeennn...