yesterday, i'm @ 35weeks gestation.... 4-5 wks to go...
anxious of course...
and panic cos havent ready anything yet for the baby...
last week, i was stressed out thinking about this...
"what if i delivered early?"
"what if i havent had anything packed for the baby and myself?"
"what if baby decided to come out early, but we are all unprepared?"
"bla bla bla".... " what if... what if..."
and i stressed out!!! panicking at the same time...
then i voiced it out to my friends in our "secret group".... they are really my best buddies and they calmed me down... thank you gals... u are always there for me... ((group hugs))
so i started one thing at a time:
We went to scout for few furnitures
(we have been planning this for quite sometimes, not only for the baby's arrival, but DH is such a procrastinator, and i dont wanna sound like a dictator iykwim!!)
1) to
get chest drawers
for abang Ayish (ohhh u gonna be big brother soon... *emotional*) to share with baby -- we have very limited space in da house, so we need to upgrade the chest drawers to double its size now... drawer ni pon letak kat play area near the kitchen... bilik maid pon suda penuh lemari baju HAziq & baju sekolah Fatini + Haziq.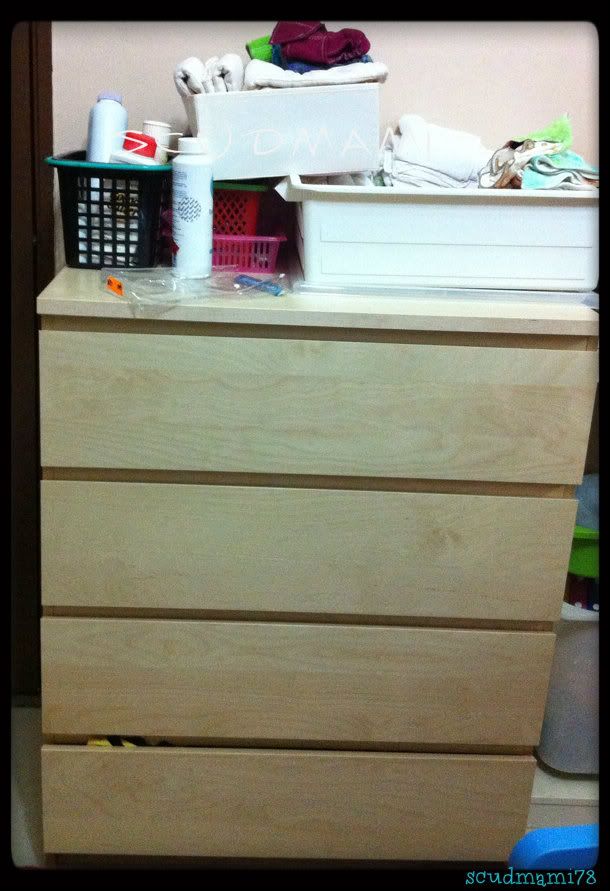 we bought this Ikea MALM chest drawers -- 2 drawers for abang ayish, 2 drawers for baby... tp baby nye CDs kena letak dalam box lain sbb tak muat hehhe
2) we need to
upgrade Fatini's wardrobe
. For now, she's using our old bookshelf for her clothes... berterabur tu takyah cakap... also all her little tiny stuff on the shelves (and now also penuh with baby's CDs & kain2 fabric yang berlambak yang mummy sumbat situ sbb takde storage) -- plan is to get 3-doors wardrobe, so can put her stuff and also my kain2 fabric hehehhe...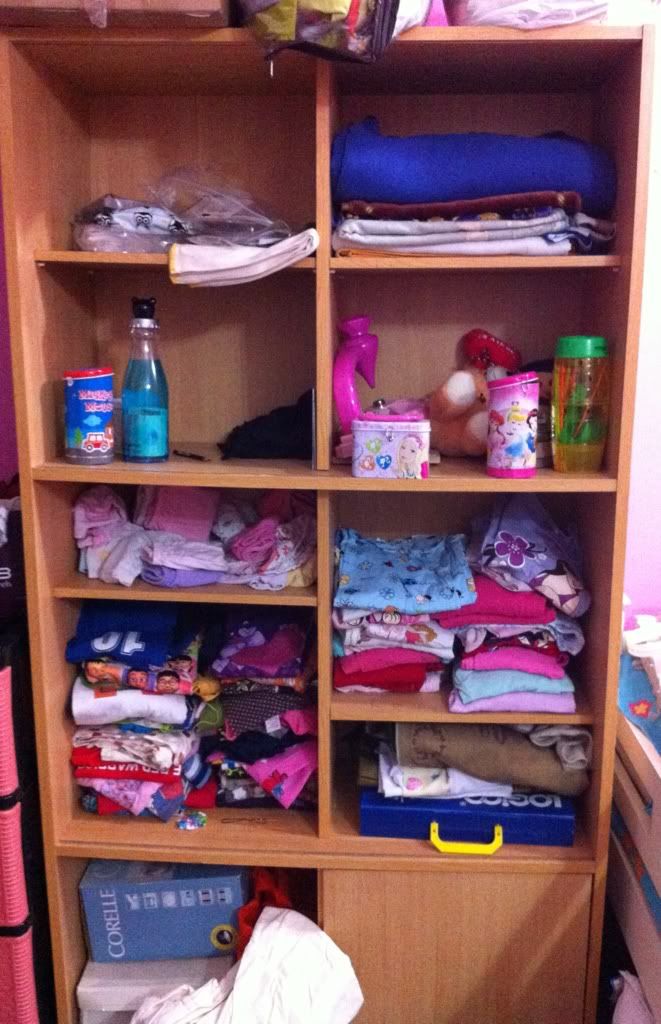 this is her current clothes shelves -- bersepah2 and segala bende sumbat situ. If beli proper wardrobe, bersepah pon tak nampak heheh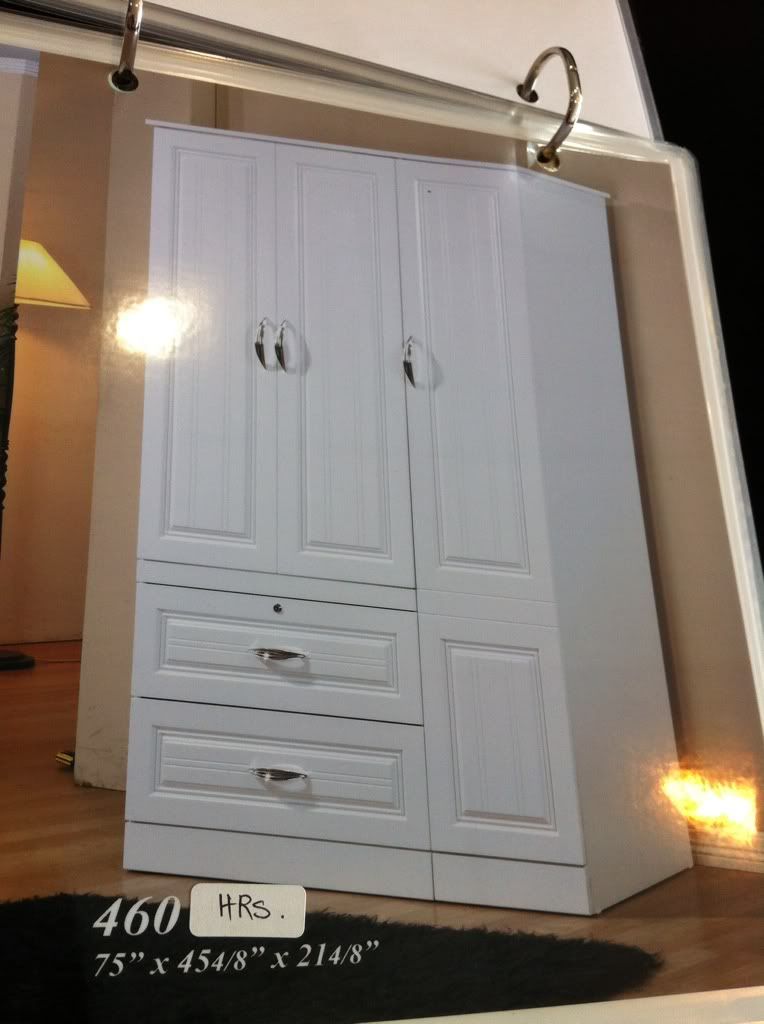 we plan to get this -- 3-doors with clothes rail & shelves compartments. Too bad this one cannot add mirror to the door --
kalo bleh, bleh la mummy tumpang camwhore bila berBW hehhehe...
3)
to get a new bed for us
-- DH has promised this for years.... and finally the bed 'patah' lol.... dont ask me how and why? it just the cheapo bed (that came in a set with meja mekap + sliding-door warddrobe & side table that costed us rm700-800/set back in 2005 - me think!!)...
and the kayu lapik already patah when 'someone' who thought he was light enuff to do some acrobatic act on the bed to show off to the kids... naahh amik kau, terus patah... but my 'not-so-handy-manny', has mended it... and lasted lah for few more years till recently... so for the time being we just laid the spring mattress on the floor, arranged the old sofa (that need to be given away!!! any takers??) so that it becomes the 'headboard', open up the queen-sized sofa bed and arranged it in caca-marba position -- janji boleh tido.... i opt for the sofa bed lah, since i cant get up if i lie down on the matress!!!
Kids are still sleeping with us, so need to settle no (2) first, re-arrange Fatini's room, de-clutter the kain2 and my sewing stuff... and let her sleep in the room again (ohhh i need some air in my own room.... 5 ppl cramped in 2 queen beds, sila bayangkan!!)
4) buying new furnitures mean to throw away the old ones.... uhhhh this is the toughest job!!! how do we get rid of these??? we wanna get rid of the
(a) sofa -- this is L-shape sofa that we bought in 2007 if am not mistaken... the cushions are still ok, just that the stool sudah melendut...
(b) bookshelf -- still can be use, but we just dont have a space for it!!
(c) meja mekap -- that has taken up our space in the bedroom -- not in use. Just tempat lempar my tudungs... so it better off!
do u have any idea where can i donate these furnitures??? but i prefer if someone can pick them up!! We are not going to sewa lori or sumthing huhuhu... nak jual pon malas... ada ke nak beli???
okay, now back to baby's businesses:
Baby's clothes
- i know i still have plenty of them -- Haziq's & Faris'... so am not going to add more (err maybe few just for the sake of new baby in a new clothes heheheh)
- so, i asked my maid to take out the box, so i chose which clothes are needed to be washed... together with the mittens and booties...
- last Friday, i went to Mom & Baby Expo in Midvalley -- i bot 2 sets of newborn's pyjamas... at least baby have new clothes to wear on his arrival... (yup gender is no longer a secret i guess!!)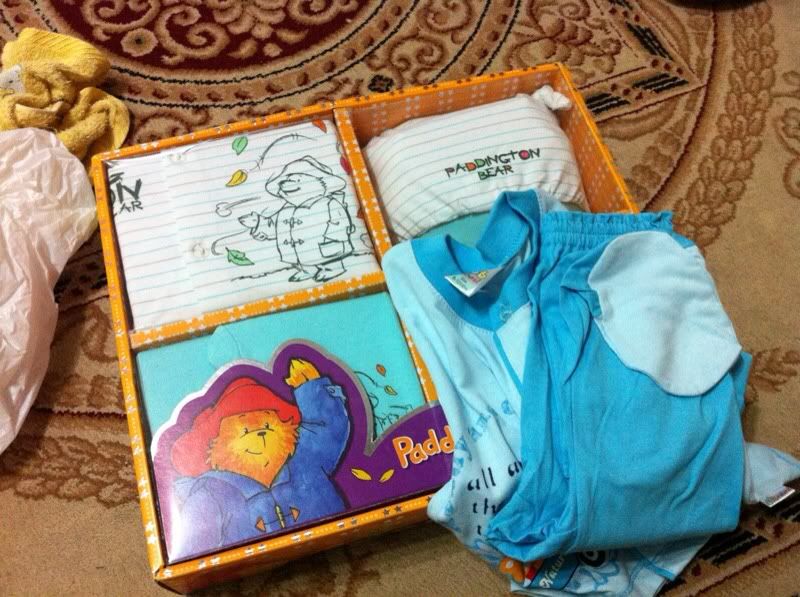 beli set punye senang sbb complete with mitten & booties & topi.. - i also have bought 3 sets of Carter's rompers err 4 actually - in different sizes (3 new sets and 1 preloved set but in tip top condition) & 1 pack of baby jumpsuit... so basically, he already has many new clothes hihihi...
- now the clothes are all washed, and kept in the chest drawers... sekali bukak -- amekawww... penuh!! mmg tak yah beli lain lol....
Cloth diapers
- i have prewashed the newborn CDs last weekend. they are all ready to use now =)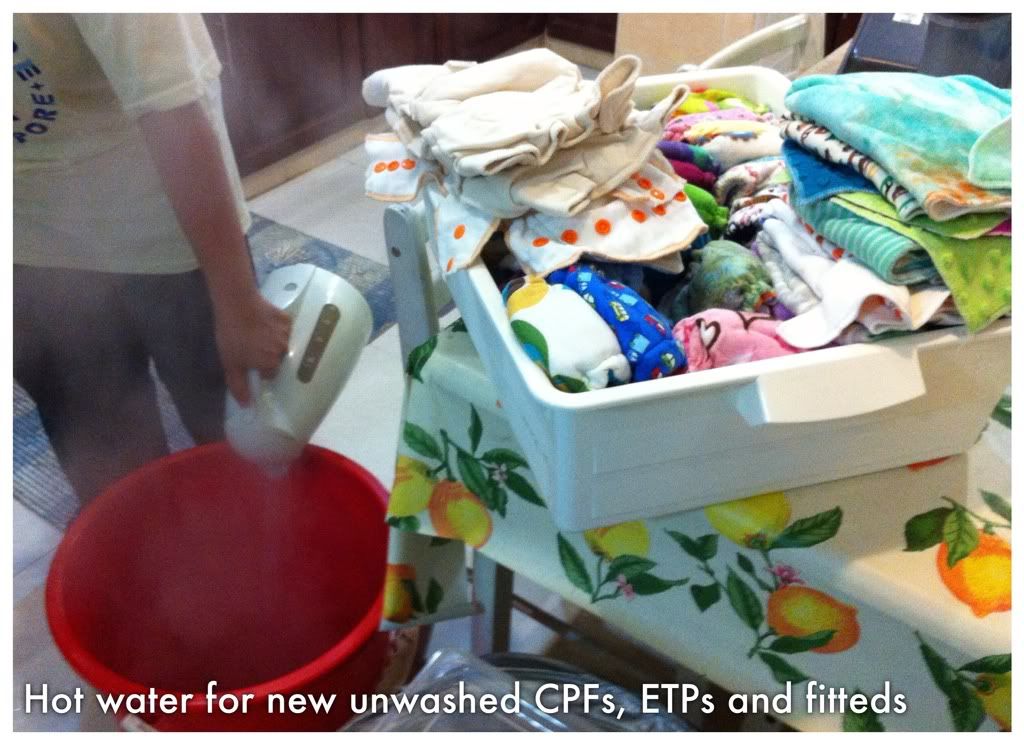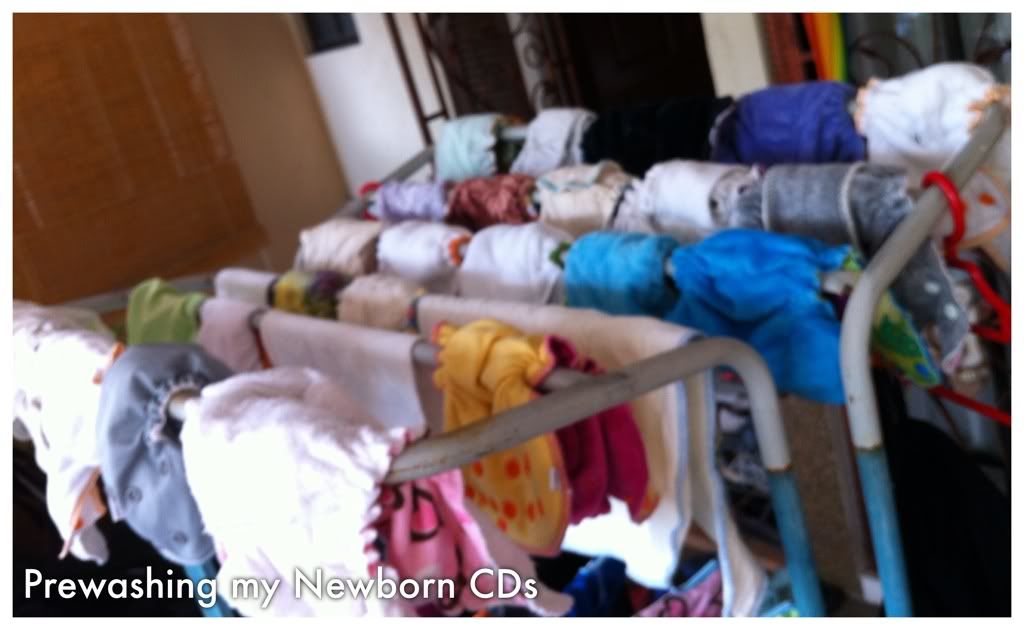 - i need to decide which CDs and how many CDs to bring to the hospital...
- i need to korek Faris' CDs -- he has too many of them, so need to see which CDs can be handed-down to baby... and i may need to sell off some of the bigger size CDs.
- i need to decide the storage solution for these CDs... i have 2 boxes of NB & new CDs.... Faris punye pon dah 2 drawers.. aiyooo... semua pon sayang mau jual... (dan* the hoarder trait in me!!!)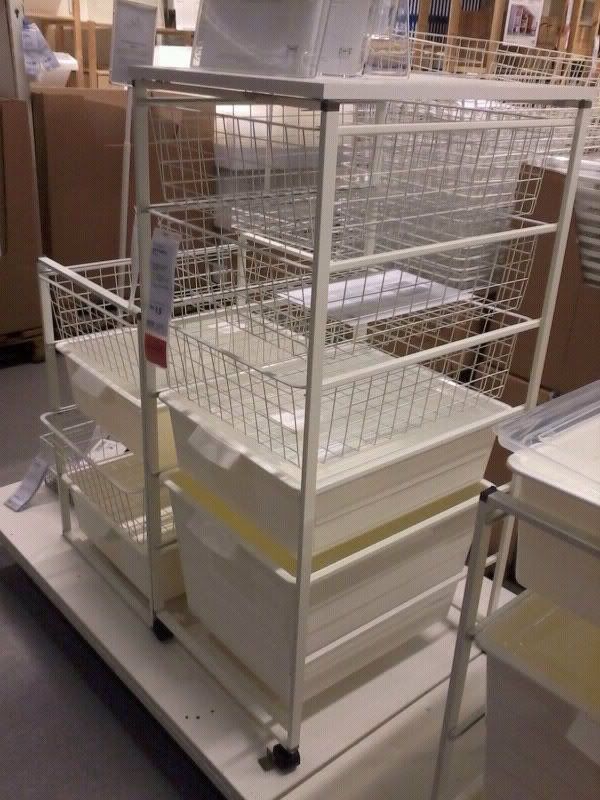 ni mcm menarik tp takde space la nak letak pulak huhuhu...
Baby's pillow bolster set
- pillows and bolsters are ready -- just sarung tilam is still pending... this wknd maybe (hopefully!!)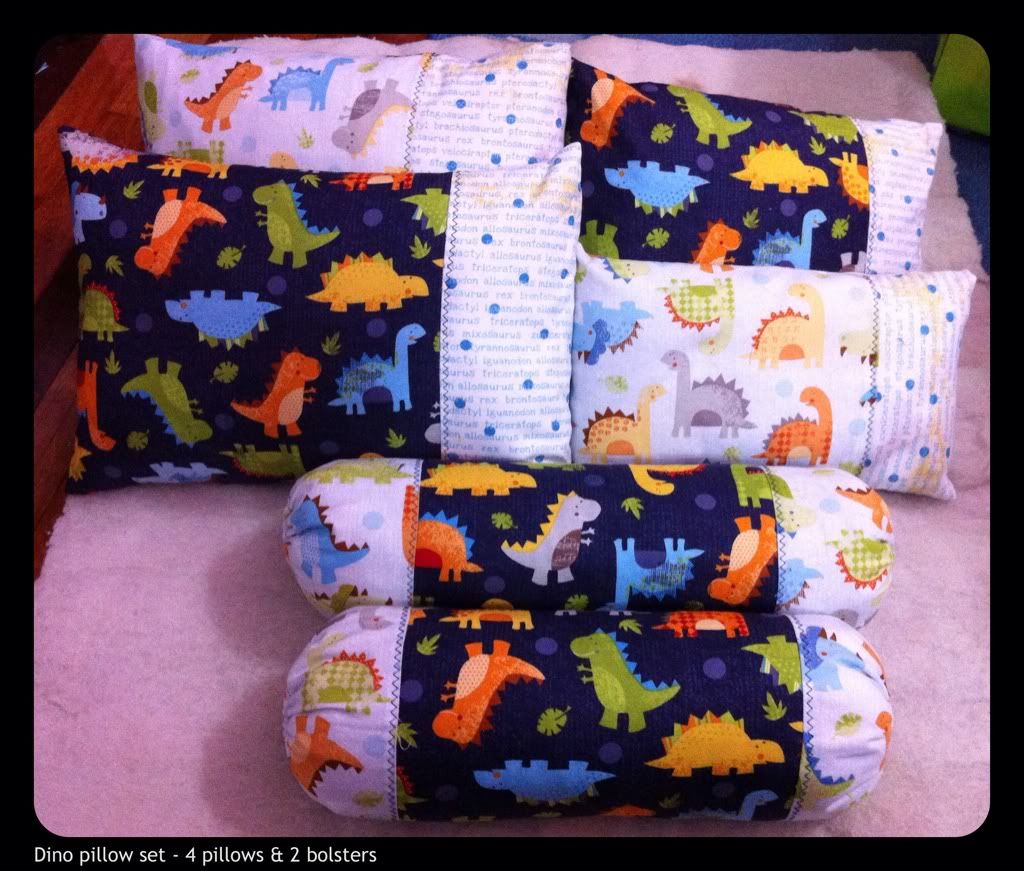 Baby's blanket
- checked! but not yet prewash. I sew the minky dot blanket reverses to "Cat in the Hat' designer cotton fabric...
-
receiving blanket
-- ingat nak beli tp tak jumpa yang cun lagi... korek yang lama, ada lah yang lama punye, cukup la... tak yah kot beli lagi, bukan nak guna sangat. Awal2 tu nye maybe masa nak bawak baby balik fr hospital & bedung masa mula2 dalam pantang...
Baby's towels
- i found the old ones, but they look very wron off.. esp the hooded ones.. i have bought one big towel from th expo last week. I may need to get another 1 or 2 of the hooded towels -- i usually have at least 3 or 4 of them! My baby alsways pee on the towel everytime after bath... so we need many spares towel...
ETA
: bought 2 towels yesterday.. and 1 hooded towel..
Baby's toiletteries
- i only bought the bath cream and baby powder last week. The big bottles!!
So need to get 1 travel set to bring to the hospital.
ETA
: bought all toiletteries yesterday including shampoo, baby lotion, baby powder, baby wipes, etc. Minyak telon baby belom beli lagi..
Barang mandi baby:
baby basin, anti-slip mat & baby support tu sume ada lagi...
Things left to buy:
* newborn size dispo dipes -- ni plan beli peket kecik je utk spare kat hospital masa mula2...
* minyak telon baby
Things to do/gather:
* confinement set kat opis -- nak kena bwk balik and tgk apa yang tak cukup. This time beli Nona Roguy. Hari tu punye minyak mustika NR tu pon ada lagi (hope boleh pakai lagi heheh)
* mybrestfriend nursing pillow -- pada Umi (dia pinjam), dah suruh dia bawak kan -- ingat nak get new one or new cover.. kalau ada jual murah2 as preloved.
* breastpump -- kak Lean ckp dah post to Aja utk service, so hope i'll get them in time.. nak tgk if i need new spareparts etc
* kemas beg hospital ku -- yang ni mmg lom buat apape... nak kena pinjam 3-4 helai kain batik dari mak. Selalu mmg berkain batik je, and kain batik mak and baju kedah dia lah jadi mangsa LOL..
* abiskan jahit barut baby. Barut mummy ada jumpe yang moden punye tu, and also kain barut (belacu) panjang (ada ke nak tolong ikat kan ni??) -- nak basuh je.
* tungku -- guna tungku moden je this time. Batu takde pulak... dulu pakai tungku moden yang bonjot tu (Leesa formula) tp kena kukus & tak tahan lama... 5 minit je dah sejuk... tungku bantal moden tu tahan lama panas, tapi tak cukup berat... tungku batu sungai gak yang BEST!
hmmm... yang lain2 nnt kalau ingat add je...